Posts for tag: nutrition
By Gateway Dental Centre, PC
September 18, 2018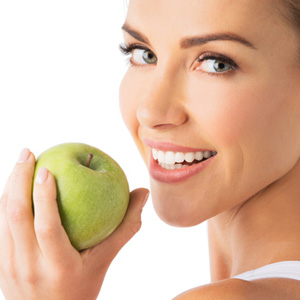 If you're brushing and flossing daily, as well as seeing your dentist at least every six months, you're doing the top things needed to maintain your dental health. But all your hygiene efforts could be undermined if you're not eating a dental-friendly diet. Simply put, there are foods that protect and promote dental health and those that increase your risk of dental disease.
Diets in the latter category are typically high in added sugar and low in natural food fiber. The largest sources of these are processed sugars from sugar cane or beets and high fructose corn syrup. With just a little knowledgeable label reading, you can find sugar and its various aliases added to thousands of processed food items including pastries, candies, sodas and energy drinks.
Heavy consumption of processed sugars also contributes to dental disease. Disease-causing bacteria thrive on sugar as a food source, which fuels both their growth and their production of oral acid. Elevated acid levels can dissolve the minerals in tooth enamel faster than saliva can keep up. Softened enamel opens the door to tooth decay, while increased bacterial growth can lead to periodontal (gum) disease.
A diet, however, low in added sugar and high in fiber can have the opposite effect. Although fresh fruits and vegetables contain natural sugars, they also have indigestible parts called fiber that slow the digestion of any sugars and allow the body to more efficiently process them.  With the higher quantity of vitamins and minerals found in unprocessed foods, the overall effect of this diet is a decrease in your risk for dental disease.
Speaking of dental-friendly foods, we should also give honorable mentions to certain dairy items like cheese and milk that stimulate saliva production and are rich in calcium needed for tooth strength. Another beneficial category is both black and green tea, which contain antioxidants to fight disease and fluoride to strengthen enamel.
Adopting a low-sugar/high-fiber diet can have a profound impact on your overall health. Over time, you'll also reap dental health rewards with stronger teeth and gums and a lower risk of tooth decay and gum disease.
If you would like more information on diet and oral health, please contact us or schedule an appointment for a consultation. You can also learn more about this topic by reading the Dear Doctor magazine article "Nutrition & Oral Health."
By Gateway Dental Centre, PC
December 04, 2017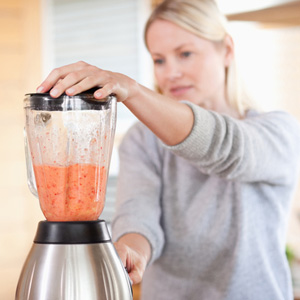 We don't often think about it, but eating is a multi-staged process. It starts, of course, with food that's hopefully high in nutritional value. But you also need coordinated jaw action to chew and shred your food that when combined with the enzymes in saliva can then be effectively digested in the stomach.
But what if you're unable to chew some foods because you suffer from chronic jaw pain and dysfunction? This is the situation for millions of people who suffer from problems associated with the jaw joints—temporomandibular joint disorders (TMD). It's not just the chronic pain and discomfort TMD can cause that's a real issue—it may also be preventing you from eating foods that are healthy for you.
Because TMD can make it difficult to open your jaws wide or causes pain when you bite down, you might especially have trouble with certain fruits and vegetables as well as many meats. Many people opt to skip otherwise healthy foods because they're too difficult to eat. That, however, could lead to lack of proper nutrition in the long run.
But with a few techniques and modifications, you can still include many of these foods in your diet even when TMD discomfort flares up. For one, be sure to cut all your food portions (including toast) into small, bite-sized pieces. These should be small enough to limit the amount of jaw opening required to comfortably place the bite in your mouth and chew. When preparing your food, be sure to peel fruits and vegetables that have skin, which is often hard to chew.
You should also try cooking crisper fruits and vegetables to a soft, moist texture. Choose meat cuts, poultry or seafood that can be cooked to a tender, moist consistency—you can also use gravies and sauces to further moisten them.
And don't forget to chew slowly. Not only does slower eating aid in digestion, it will help you avoid overworking your jaw joints.
With a few adjustments you can have a normal, nutritious diet and minimize the discomfort of your TMD symptoms. Continual healthy eating is a must for overall health and quality of life.
If you would like more information on reducing the impact of TMD on your life and health, please contact us or schedule an appointment for a consultation. You can also learn more about this topic by reading the Dear Doctor magazine article "What to Eat When TMJ Pain Flares Up."
By Gateway Dental Centre, PC
June 21, 2017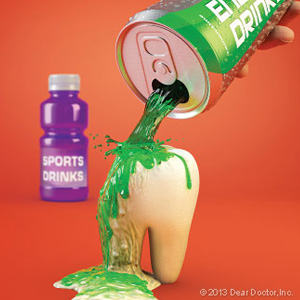 Energy drink makers would have you believe their products are a healthy rehydration choice for athletes while also giving them keener focus and renewed vitality. But before adding them to your sports regimen, you should also consider what effect these beverages could have on your teeth.
Energy drinks are similar in ingredients to sports drinks like Gatorade® and PowerAde®, which mostly consist of water, salts, vitamins, sugars and acids. In addition, energy drinks like Red Bull® and Monster Energy® add caffeine to boost energy.
Besides their sugar content, the main threat from a dental health perspective for both of these drinks is their acidity, which can severely erode tooth enamel. The irreplaceable loss of enamel significantly increases your risk of tooth decay and eventually tooth loss.
The threat of enamel erosion is especially pronounced whenever the mouth's pH level falls below 5.5. The acidity of both sports and energy drinks falls well below this mark. In one experimental study samples of enamel exposed to a number of sports drinks lost an average of 1.5% of mineral content over five days; energy drinks more than doubled that loss at 3.1%.
Given the potential harm these beverages, especially energy drinks, can cause your teeth, you should exercise caution when consuming them. In fact, our best advice is for you to avoid energy drinks altogether, for your overall health as well as your teeth's sake.
Unless you're participating in a physically intense sport, water is your best source for hydration after exertion. Â If you do drink sports beverages, try to limit them to meal times when your saliva is most active to neutralize mouth acid. You can also rinse out your mouth with water after drinking to help further reduce mouth acidity.
As an athlete, you've trained your body to be at its optimum physical peak. Don't let energy or sports drinks take the edge off your health, especially your teeth.
If you would like more information on the effects of sports or energy drinks on dental health, please contact us or schedule an appointment for a consultation. You can also learn more about this topic by reading the Dear Doctor magazine article "Sports and Energy Beverages Bathe Teeth in Erosive Acids."